OUR FAVORITES AREAS OF FINE SAND!
Take time at the heart of the most beautiful lagoon beaches at the edge of the forests of pines, and discover paradisiac, secret and almost inaccessible places …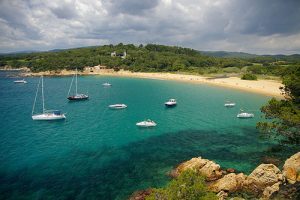 Es Castell
Doubtless, and well beyond its natural beauty, the beach of Es Castell is the beach with the most undeniable importance in the History of the Costa Brava. Reflection of the concern against the property speculation, it is considered as the most blank beach of Costa Brava and symbolizes the local fight for the environmental protection.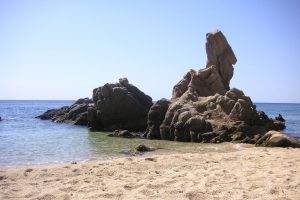 Castel Madeleine
In the curved of a little street of a high-class residence, is hiding an uneven brutal staircase which will lead you towards this almost unknown tiny little creek.
To consume rather on the morning, the orientation of the sun and the glassy sea will be there…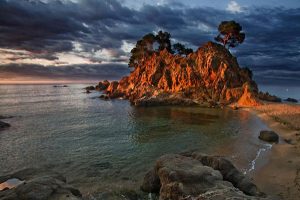 Sant Jordi Cap Roig
Going until Sant Antoni de Calonge, this beach extends over both sides of a beautiful headland, which is in reality a cape decorated with a big felspathic rock crowned with some pines, and which advances slowly in the sea.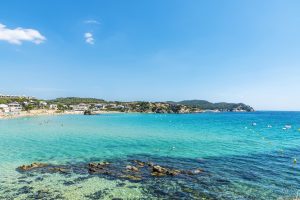 La Fosca
The beach of Sant Esteve de la Fosca, known also as the Fosca, is situated in the bay of the same name, in the North of Palamos. It is the beach the most spectacular and loved by the inhabitants of Palamós because of the natural beauty of its environment, far away from the big buildings of the beach of the centre of the village.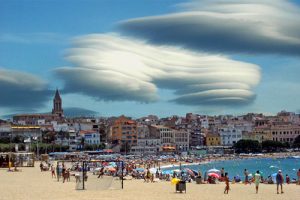 The red cross
Platja Gran de Palamós is one of beaches most livened up by Costa Brava. With many services for the swimmers, alive and kicking day and night, the visitors will appreciate the numerous possibilities of leisure and of entertainment, which the beach can offer.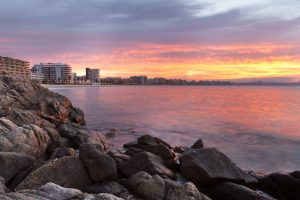 Torre Valentina
Situated at the end of the beach of the city of Calonge, near Platja d' Aro, Torre Valentina is one of the most famous towers of defence and maybe the best protected from the overall Costa Brava.
Surrounded with a wide and beautiful fine sand beach, you can also take advantage of a walk along a covered way, which leads until Platja d' Aro.